IMI Desert Eagle .50AE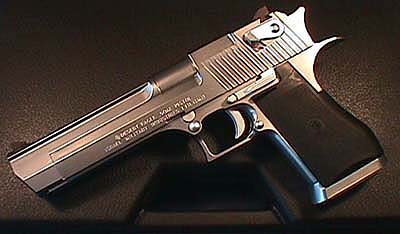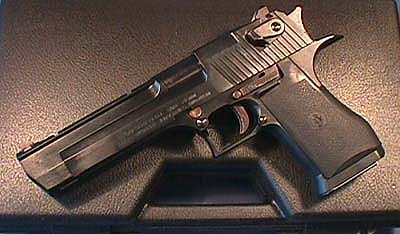 Hudson Desert Eagle .50AE Matte Chrome (top) and Heavy Weight (bottom)
In movies, this is a favourite of Arnold Schwarzenegger. This pistol is parallel with the tuffest guy in the world as it is the most powerful automatics at present. Hong Kong actor, Mr. Wong Chou Sang also uses this gun a lot in his movie. This gun gives people an image of tuff and powerful, and it truly has inside to match.
Developed by Israel Military Industry (IMI) in 1982, Desert Eagle is first available in .357Magnum caliber. .44, .41Magnum and .50AE are additions to the range. Desert Eagle was imported to the State in 1985 to continue the legend of AMT Auto Mag .44. Being the most powerful is always a wish of man and this gun truly deserves the title from its big .50AE caliber.
I would rather called it a hand cannon due to its complexity of mechanism. It is a single action, single column gun with rotating lock up bolt and gas operation. The whole blowback system is no different from a AR-15. When a cartridge is loaded, the rotating bolt lock the round in the chamber. Upon firing, the hot gas generated inside barrel pushes the piston located at the front to blowback. As all the cartridges accepted by this gun are long, open barrel system is used to reduce jamming. The heavy recoil is countered by twin springs located inside the slide, similar to Walther P-38. Barrel is fixed and high accuracy can be achieved. 10 and 14 inch barrels are available if you demand higher accuracy. Therefore people usually use this gun for hunting purpose. When shooting .357Magnum, this gun is easy to control. When .50AE is loaded, control is not that easy and you better have enough weigh and waist strength to handle the gun.
In fact, the gun itself is very bulky. Grip is made very long to hold Magnum cartridges and slide is very thick and tall. Weighted at 2kg, it is just like carrying 3 Glock 17s in one. Concealing this gun requires a heavy duty holster and a body as thick as Arnold's. Since I am not a built-up guy, I would rather carry a Glock, at least I have twice the amount of ammo in one mag.
| | |
| --- | --- |
| Most beautiful part of the gun, muzzle | Rotating Bolt System, sadly it is not copied to model gun |
Model gun of Desert Eagle is made by Hudson and is available in .44 (ABS, HW and Matte Chrome) and .50 (HW and Matte Chrome). Overall shape of the gun is okay but finish is a bit let down. My HW model is too plastic looking although the weight is fine. .50AE model is faithfully reproduced as it has a built in scope mount and a different safety from .44 model. Cocking the gun gives you some funny spring sound which make you think you are playing with a kids gun. Return of slide also gives you a true plastic hitting sound which you never expect from a high grade model gun. In terms of mechanics, rotating lock up bolt and gas operation are absent and you are only dealing with a straight forward blowback system. Cartridge is in scale and MGC CP-HW system is used. Slightly different from MGC's, the valve inside the cartridge has a hole to release sparks and sound in expense of blowback force. Markings on the gun are excellent.
I think Hudson is very good at making full metal rifles and SMGs. For plastic model pistol, they have plenty to learn before they can match MGC and KSC. Sadly they are releasing the MP5 in full plastic and I don't expect too much for it. But they should release it sooner as they have delayed the release too long.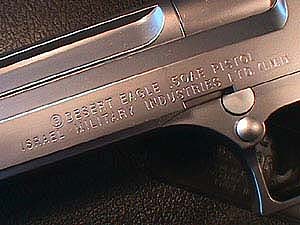 Markings are nicely typed on the slide.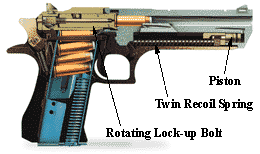 Cut-away diagram of real gun
| | | | |
| --- | --- | --- | --- |
| | IMI | Hudson | Hudson |
| | | Heavy Weight | Matte Chrome |
| Caliber | .50AE | .50AE | .50AE |
| Length | 273mm | 270mm | 270mm |
| Barrel length | 6in | 5.83in | 5.83in |
| Weight | 1,999g | 1,000g | 820g |
| Capacity | 7+1 rounds | 7+1 rounds | 7+1 rounds |
| Price | US$1,249 | 25,000yen | 25,000yen |
Back to Pistols